David runs in charity mud race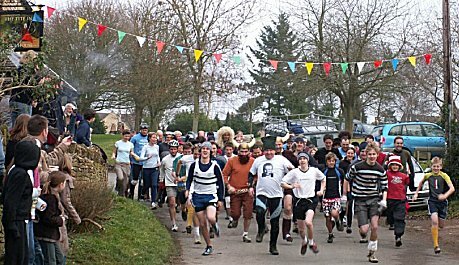 Conservative Party leader David Cameron has taken part in the fourth Great Brook Run in the village of Chadlington on Sunday. Runners on the one-mile (1.6km) cross-country course have to tackle freezing water and pass through a tunnel. Mr Cameron said: "The main thing is to complete the run, survive and to get home to have lunch." He finished the course in about 15 minutes, while the winner made it in 8.5 minutes. Mr Cameron added: "I enjoyed it. It's for charity and it's a good thing to do, it brings everyone together, it's a nice day out, 'ish'. It's called a brook, but it is more like a river and it is quite cold in there." The race started at the Tite Inn and wound its way through muddy fields before finishing back

at the pub. Mr Cameron was met by his wife Samantha after the run, when he and the other competitors were given a medal for taking part.
Dave gets down and dirty

Dec 27th David Cameron is used to political mud-slinging, but

he

got down and dirty in a more unconventional way today. He was one of 105 people to take part in the annual Brook Run in Chadlington, near his west Oxfordshire constituency home.

Participants off started at the Tite Inn, ran half-a-mile along a muddy footpath before turning round and running back through a brook. Mr Cameron finished a respectable 25th beating a runner dressed as Spiderman and joked it was a good way to run off the Christmas turkey. This was the first year Mr Cameron had taken part in the event, having always been a keen spectator.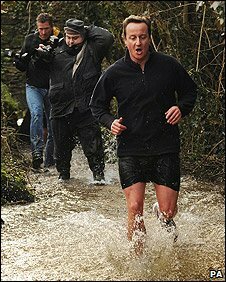 Conservative leader David Cameron was beaten by three girls and a semi-naked man as he braved a cold and muddy charity run in Oxfordshire. Mr Cameron joined competitors on the third Great Brook Run in Chadlington to raise funds for the village school. The Witney MP finished the mile-long race in just under 15 minutes, in 25th place out of more than 100 runners. Afterwards, Mr Cameron joked: "Gordon Brown should come down next year and we could decide the election that way."
The race was won by Ben Chapman, 15, from Chadlington. Another villager, Ric Yapp, who was wearing only a pair of black briefs, a red waistcoat and a Santa hat, also finished ahead of the Tory leader. After hugging his wife Samantha and his three children, Mr Cameron said: "It was very cold. We had to crawl under a bridge and it was very muddy. But, you know, I really enjoyed it." The race started at the Tite Inn, Chadlington, and wound its way through muddy fields before finishing back at the pub. Adam Engberg, one of the race organisers, said he was pleased Mr Cameron had taken part. "No-one told him about the tunnel they had to crawl through," he said. "He was quite surprised by that." All the contestants were awarded a medal.
David Cameron 'Most Googled'

Forget holidays, old schoolfriends, or even love, Oxford's Internet surfers are searching for David Cameron. A survey by search engine Google reveals the Witney MP and leader of the Conservatives was the 'Most Googled' search in Oxford during 2007. Write 'David Cameron MP' in Google, and you will register 1,580,000 hits. Top of the list is the MP's official website, located at www.davidcameronmp.com, where you can find pictures of him shaking hands with pensioners in Woodstock, talking 'street' with sixth formers in Eynsham and riding a miniature train at the Cotswold Wildlife Park. You can also watch Web Cameron, the MP's own daily Internet diary, and maybe catch a glimpse of him feeding the baby while preparing for Prime Minister's Questions.
DAVE'S GREAT WEEK
Think back to the point just before Cameron took the stage in Blackpool. Gordon Brown was sitting pretty. His debut speech as prime minister at the Labour Conference the previous week had been well received and his self-styled reputation as a conviction politician was very much intact. All the pressure was on Cameron. Could he deliver when it mattered most Would he persuade the voting public that it was time for a change A lot rested on Camerons ability to remember an hour-long speech off by heart. It seems a long time ago now. The tables have turned somewhat on the leaders of the two main political parties and Camerons speech is only partially responsible. Gordon Brown must take the lions share of the blame

Having handled a tricky first few months at the helm with admirable competence, he has fudged his way through the first political banana skin to be thrown his way. Britain expects its leaders to be decisive and assured and, up until this point last week, Gordon Brown shaped up nicely. In the last seven days, however, weve seen a different side of our prime minister.

He backtracked on an almost certain autumn general election and claimed that the polls had nothing to do with his decision. His Chancellor of the Exchequer Alistair Darling then delivered a pre-budget report that was not strong enough to call an election on the back of. To make matters worse for the prime minister, the Conservatives accused the chancellor of stealing their ideas and Gordon Brown of trying to spin an announcement about troop withdrawals in Iraq.


Right for the jugular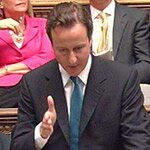 It had not been a good week for Gordon Brown and there was no way that David Cameron was going to let him get off lightly when it came to Prime Ministers Questions. Cameron went right for the jugular. He questioned Browns trustworthiness and ridiculed him in the process. Referring to the Browns claim that he would have called off the election even if polls had showed Labour had a 100 seat majority, Cameron asked if we can believe anything that Brown says.
Cameron jibed that Brown was the first prime minister in history to flunk an election because he thought he was going to win it. He then read poignant extracts from Gordon Browns own book, Courage, which he claimed made the prime minister a phoney. Echoing his speech last week, Cameron accused Brown of treating the British people like fools and challenged him again to call a general election.

Cynicism
In a relentless assault on the prime ministers character, Cameron said the British people had never before been treated with such cynicism and that Brown was losing moral authority. He pointed out broken promises, suggested Brown lacked conviction and mocked that next hell be telling us he admires Margaret Thatcher. In defence, Brown had little to offer and Cameron can be satisfied with a job well done.
From MSN Special Report
I'M ONLY HERE FOR THE BEER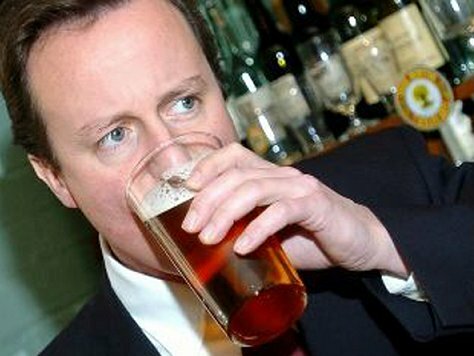 THERE was double cause for celebration as two landmark achievements were recognised at Hook Norton Brewery. The brewery played host as Tory leader David Cameron MP dropped in to congratulate fellow Conservative, Banbury MP Tony Baldry on 25 years as the constituency member. Mr Cameron was also on hand to help launch the latest ale in Hook Norton's range, called Banbury 400 and brewed in recognition of the town's charter celebrations.
David Cameron Opens Owen Mumford's
Expanded Manufacturing Facility
David Cameron
opened
an extended manufacturing facility in Chipping Norton, for medical device company, Owen Mumford.
He
unveil
ed
a plaque at Owen Mumford's Chipping Norton site on Friday 25 May. Owen Mumford is a family owned company that has over fifty years' experience as a world leader in the design, development and manufacture of medical devices. Healthcare professionals and consumers worldwide use these devices.
At its Cotswold division in Chipping Norton, Owen Mumford moulds, assembles and packs automatic injection devices, which patients use to administer pharmaceutical product from pre-filled syringes or cartridges, for the treatment of chronic or degenerative conditions, such as diabetes, multiple sclerosis and rheumatoid arthritis.
A growth in the number of medical conditions which are self managed by the patient, by self-injecting medication using bespoke autoinjector and pen technology, has led to an increased demand for the type of medical devices produced by Owen Mumford. Owen Mumford manufactures a range of its own branded products for hospitals, clinics and pharmacies, as well as developing products on behalf of pharmaceutical and diagnostic companies.
The new facility will more than double the existing space available for the manufacture of drug delivery devices and reusable lancing devices. The site will also feature a class 9 clean room environment and cold chain management facility, for the manufacture of drug device combination products. A significant part of the new space will be devoted to fully automated assembly equipment, for high speed, high volume manufacture of new devices.
At the opening, Adam Mumford, Managing Director of Owen Mumford, and Martyn Young, General Manager of Owen Mumford's Cotswold Division, were on hand to welcome guests and outline the company's commitment to its employees and the local community in Chipping Norton.
Commenting on the company's expansion, Adam Mumford, Managing Director of Owen Mumford, said: "As a successful and growing business, this expanded site will enable us to produce more new products and greater volumes, to meet the increased demand from patients, healthcare professionals and pharmaceutical and diagnostic partners. This state of the art facility further cements our position as a world leader in the production of auto injectors and allows for further expansion in the future."
Cameron keeps his mind on compost heap
TORY leader David Cameron was unusually coy about his views of Gordon Brown as he visited a green waste recycling plant in his constituency. Mr Cameron was given a tour of the two-acre site near Chipping Norton which is operated by private firm Agrivert and composts over 60,000 tonnes of organic waste collected from Oxfordshire homes which is then sold on to local agriculture
Speaking after his tour, Mr Cameron quipped to assembled school children and local dignitaries, Someone wrote me a letter the other day saying, Dear Mr Cameron, if you care so much about climate change and carbon emissions why dont you stop breathing. But asked about his preferences for green over Brown, he merely smiled and responded, Ive always said that if you vote blue, you can go green and of course the alternative to green is Brown.
MUSLIM COUNCILLOR BACKS CAMERON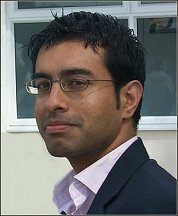 A Muslim Conservative party member and Chipping Norton town Councillor has backed Tory leader David Cameron's comments that some Muslim extremist groups are the "mirror image" of the British National Party. Yasin Qadir of Hailey Road supported the statement by the town's MP earlier this week during a speech in Birmingham.
"I have to agree with David Cameron when he talks about how extremist Muslim groups are hoping to divide society over grievances they feel strongly about - in the same way the BNP has been dividing inner city areas with ideas of "them and us" said Mr Qadir. "But the majority of young Muslims are just as afraid of marginalisation in society as the rest of the population."

A LOCAL HOODIE LIES IN WAIT

While Dave is attending a launch party at the new Katharine House Hospice on West Street on Friday a local hoodie lies in wait outside. Mind you the Vicar is there to make sure nothing too irreverent happens. The shop opened on Saturday.



(Picture by Jim Crease)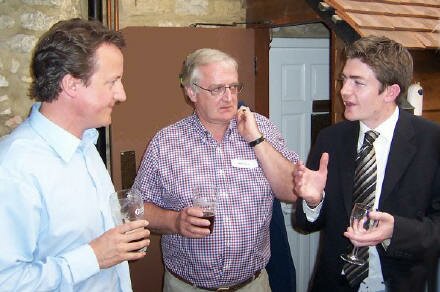 Tory leader in green controversy
"one rule for him and his Tory friends, and another for the rest of us".

Labour has accused Tory leader David Cameron of hypocrisy after it emerged he used a private jet to travel 90 miles from Oxford to Hereford. The Conservative leader travelled with his wife Samantha and daughter Nancy from Oxford airport, near his Witney constituency, to the home of businessman Richard Smith in Shobdon. The campaigns director of Friends of the Earth Roger Higman said Mr Cameron had a duty to show responsibility. "If politicians ignore their own responsibility, it's difficult for them to expect others to do anything else." Labour's John Healey, a Treasury minister, said the incident showed Mr Cameron's commitment to the environment was "all for the cameras".

"It just shows that Cameron believes there's one rule for him and his Tory friends, and another for the rest of us."
CAMERON COMES OUT IN
FAVOUR OF HUNTING.

ANIMAL rights supporters reacted angrily to plans by Tory leader David Cameron to give MPs a free vote to repeal the fox hunting ban. The Witney MP told GMTV: "I have always believed that country sports are something that have taken place for years and they do not need the approach of the criminal law. In a new Parliament, it should have a new vote, on a free vote basis, on the issue of hunting." The MP's spokesman confirmed that Mr Cameron, who voted against Labour's 2005 ban, would also vote to scrap it if he became Prime Minister.

On Tuesday, Mr Cameron told Talksport radio he still found time to shoot "the odd pigeon". Asked if he saw anything wrong with hunting or shooting he said: "No, I don't see anything wrong with it at all. I was brought up in the country, I enjoy country sports, I still have a bit of time for the odd pigeon. And sometimes do a bit of fishing." He described the ban as a "farce" and said: "We've passed a law that everyone is openly flouting and it makes the law look stupid."

Penny Little, of the organisation Protect Our Wild Animals, based in Great Haseley, described his comments as "appalling." Is it Mr Cameron's theory that all laws that are broken should be repealed I hope people take careful note that this is what David Cameron is really about - supporting his blood sport-loving friends. His caring, kindly image has gone out the window."

Labour MP for Oxford East MP Andrew Smith said: "His enthusiasm for killing animals for fun is shocking, and exposes the myth of the image he is trying to put across." The League Against Cruel Sports said: "Many people in Oxfordshire will find these remarks distasteful and distressing."
DAVID CAMERON PROTESTS OVER CLINIC CUTS

Oxfordshire NHS Trust is proposing to suspend monthly outpatient clinics in the town because they are underused. This appears to contradict the trust's assurances that more treatments would be available locally, to avoid patients having to travel to Banbury or Oxford. Mr Cameron is writing to the trust over the issue. He said: "If these consultancy clinics are being taken away from the hospital in Chipping Norton it will lead to a number of problems, such as patients travelling further to receive the service they need.

Chipping Norton's hospital has been earmarked for replacement by a new hospital offering a more limited range of services. Work was originally to start next month with the hospital opening in spring 2008, but planning delays have seen approval for the site deferred.
David Cameron speaks up for Horton
Pledges to challenge the Labour party over the cutbacks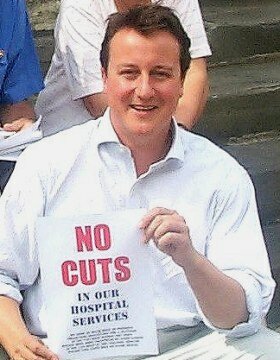 CHIPPING Norton MP and Conservative leader David Cameron visited the Horton Hospital in Banbury today (Friday), and left making a pledge to speak up over the effects of proposed cuts. Mr Cameron spoke to nurses, paediatricians and cleaners during his half hour at the hospital. Paediatrics, maternity, gynaecology, emergency surgery and trauma, A&E and microbiology departments are all under threat. Mr Cameron was particularly struck at hearing that cleaners are now expected to clean operating theatres in just three-and-a-half hours. They were previously allowed seven. He also referred to his eldest son Ivan, who was born severely disabled meaning his wife Samantha had to undergo an emergency Caesarean section within ten minutes to ensure the baby survived. Proposed cuts to paediatric services at the Horton mean any mothers suffering complications during birth will have to be rushed to the John Radcliffe in Oxford, what Mr Cameron called a 'dreadful prospect'.

Pledging to challenge the Labour party over the cutbacks, he said: "There are real concerns expressed by the staff about the knock-on effects of reductions.
My constituents in and around Chipping Norton value the Horton. Everyone in Banbury values the Horton and everyone wants it to be a fully functioning, successful hospital serving what is a growing community.

The more we take things out of the Horton the more there is a danger that what is left won't cohere and survive."

David is pictured above supporting the Chippy Hospital Campaign last year.
Gerrymandering boundaries
to give Labour a boost at the polls.

Chipping Norton MP David Cameron has said moves to scrap Oxford's two-tier system of local government in favour of a unitary authority for the city were "gerrymandering" to give Labour a boost at the polls. The new Department for Communities and Local Government is undertaking a review of the structure of local government and is due to publish proposals in a White Paper in October. Oxford City Council, which is responsible for planning, waste collection and environmental health, wants to take over responsibility for functions carried out by County Hall, like education, social services and highways maintenance.
But the Conservative Party leader said reorganising councils risked "setting different groups of councillors against each other". In an exclusive interview with the Oxford Mail, the Tory leader suggested ministers might be seeking to grant unitary status to Oxford because Labour was more likely to win power in the city than it was at county level, which is dominated by the Conservatives. He said ministers had launched their review because they had run out of ideas and "to destroy a very effective and growing army of Conservative councillors who work very hard for local people".He said: "When a Government has been in power for this long and when they're so out of touch and so arrogant about power, you do begin to suspect their motives. "And I do wonder whether they are gerrymandering boundaries to suit their own purposes, which is what it feels like in Oxfordshire."
SUMMER IS OFFICIALLY HERE. THE POOL IS OPEN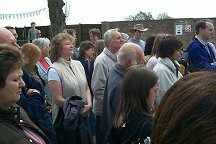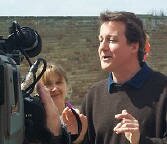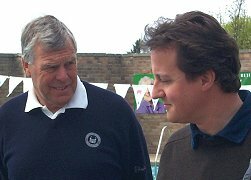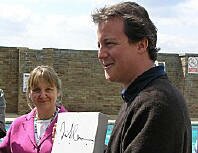 "One of the great things about my life at the moment is the variety. One day I'm in the House of Commons facing Tony Blair. The next day I'm in the Arctic Circle and the day after I'm at Chipping Norton Pool!" Dave was in relaxed good form on Saturday morning. He congratulated KOPO on the super campaign they had run to keep the pool open. They had raised its profile and won the support of townspeople. He was already a regular at the Indoor pool. He promised that in future on summer days like this one he would be changing his allegiance. Claire Jarvis announced that Chipping Norton Lido had just become a registered charity and Dave had agreed to become the Pool's Patron. Claire thanked the Town Council who were the only body providing any support. The rest was going to have to come from takings on the gate and fund raising. Cheers all round. The Pool got pretty full then as everyone piled in. Here's hoping for a really successful summer.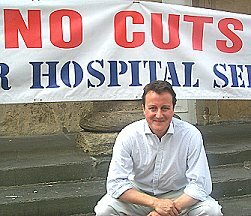 On Tuesday 28th March, David Cameron joined Members from across the political spectrum in presenting a record number of petitions to the House of Commons to protest against the continued threat to community hospitals. Following the hugely successful CHANT (Community Hospitals Acting Nationally Together) rally, forty five petitions were submitted to recognise the vital role played by community hospitals in providing community based care. The previous record for formally presenting petitions to the House was just twenty-nine in 1985. Over one thousand people from across the country attended the rally. It was addressed by the Conservative Party leader, David Cameron, Liberal Democrat Health Spokesman, Steve Webb and Shadow Secretary of State for Health, Andrew Lansley. David Cameron said, I was delighted to present a petition on behalf of Chipping Norton Hospital and hope that by breaking the record the Government will listen to the will of thousands of people across the country. Chipping Norton Hospital is a vital and valued resource and should not face cutbacks in response to the short-term PCT deficit.

The recent Health White Paper promised care close to home yet the PCT is still pushing ahead with cuts and closures to the very hospitals that can provide it. It is time for Ministers to act to make sure that the PCT has the resources and will to protect vital local services. Patricia Hewitt has repeatedly been warned that closures are going ahead. She should issue immediate guidance to local health bosses on how to implement the proposals in the White Paper. Closures are still being driven by financial, not health, considerations, with only token nods to the White paper and this must be addressed by Ministers.

The Chipping Norton Hospital Action Group participated on 28th March The Chippy delegation was led by Clive Hill. Several hundred signatures in support of this record attempt by CHANT were collected in Chippy Market Square last Saturday morning. Chippys own petition last year collected over 10,000 signatures.

Cameron joins 'world's sexiest men'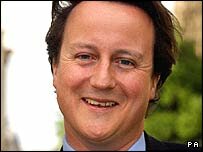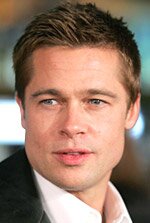 Tory leader David Cameron has made it into a poll of the world's 100 sexiest men - with the top place taken by Brad Pitt. Lord of the Rings star Orlando Bloom, 29, is the highest-ranking British actor, in third place. Jake Gyllenhaal, 25, star of gay cowboy movie Brokeback Mountain, is second. Johnny Depp is fourth in the list of the 100 Sexiest Men in the World, followed by British star Clive Owen. Shayne Ward, the X Factor winner, ranks higher than Jude Law and Bond star Daniel Craig by winning seventh place in the poll for New Woman magazine. With 59 names in the top 100, more than half the Sexiest Men in the World are British, compared with 30 from the US. Mick Jagger is the oldest name, with the 62-year-old Rolling Stone in 67th place. The youngest on the list, where the average age is 33, is 16-year-old Soapstar Superstar Richard Fleeshman, at number 77. David Beckham is 14th New Conservative party leader David Cameron, 39, is the only politician to make it into the top 100, grabbing 92nd place. The Eton-educated MP has been voted more sexy than You're Beautiful singer James Blunt, fiery actor Russell Crowe, footballer Ashley Cole, and pop star Will Young.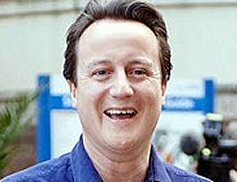 Conservative leader David Cameron has said he is "really excited" after wife Samantha gave birth to their third child - a boy - by Caesarean section.

Mrs Cameron, 34, gave birth at St Mary's Hospital in Paddington, London, with her husband, 39, at her bedside. Baby Cameron was delivered at 1155GMT, weighing 7lb 13oz. Both mother and child are said to be doing well. The Camerons, who have been married since 1996, have a son Ivan, three, and a daughter Nancy, two. Mr Cameron told reporters outside the hospital that his new son had blue eyes and black curly hair.

He added that his wife was "sitting up" comfortably and said of the birth: "It was all over very quickly." Mr Cameron said: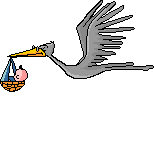 "We are going to be here for a couple of days while we make sure everything is OK. "We haven't got a name yet - I can't make decisions like that." Asked whom the baby most resembled, he said: "All of us." Mr Cameron had been in a meeting with his shadow cabinet in the House of Commons at 0845GMT when he got a call to say his wife was on her way to hospital. The baby was born slightly earlier than the expected date by

Caesarean for medical reasons - both previous births have been by Caesarean.

Friday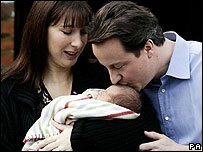 Conservative leader David Cameron has announced his new baby son is to be called Arthur Elwen. The Tory leader said the names did not have any particular significance but he believed somebody on his father's side of his family was called Arthur. "Arthur we've always liked as a name and Samantha found Elwen in a book. We thought it was a good name," he said. He said the family were doing fine, despite sleep deprivation. "It's absolutely great to be home and it's actually been very easy," he told reporters. Parliament has just begun a week's break but Mr Cameron defended his decision to take two weeks' paternity leave. The family are planning to go to their house in Mr Cameron's Witney constituency later on Friday.

Mr Cameron said Ivan and Nancy were getting used to the idea of a new baby brother. "They seem very chuffed about everything and it's lovely. I have had a better nights' sleep - but that's all part of it." The family later headed back to their home in posh Chipping Norton, Oxfordshire.
WELCOME TO CAMERON COUNTRY!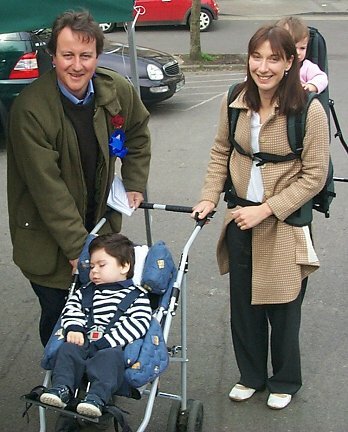 David and his family in Chippy Market Square back at
election time in May. The picture belongs to chippingnorton.net
and anyone is welcome to use it

CHIPPING NORTON BRANCH WEST OXFORDSHIRE CONSERVATIVE ASSOCIATION AGM AND ANNUAL DINNER AT THE CROWN & CUSHION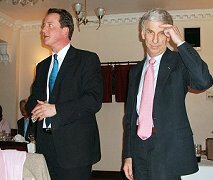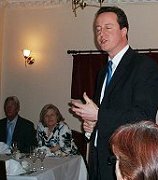 District Councillor Michael Howes (Chairman) introduced our local MP David Cameron (Leader of the Conservative Party) David presented and explained his strategy for the Conservative Party.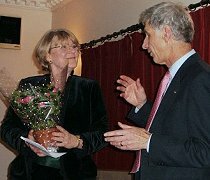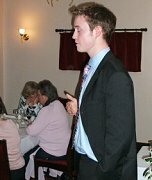 District Councillor Michael Howes (Chairman) congratulates County Councillor Hibbert-Biles on her
election last May and a year of non-stop activity on behalf of the town. Sam Birkett, Chairman of Conservative Futures, setting out his plans for making contact with the 18-30s in this part of the District.

CONGRATULATIONS TO DAVID ON
WINNING THE LEADERSHIP!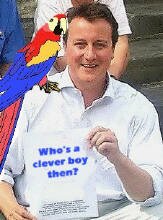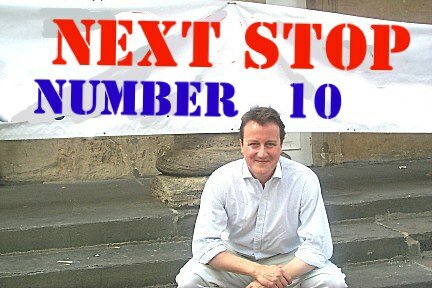 September 2005 The Editor wrote in Parish Pump.....
.......I've never been a Tory but I voted for David Cameron last time. I'm a big fan - based on what I've seen him doing over the last year to help us with the Hospital campaign. Last evening - on his hols - he came along to a meeting of the Healthcare Users Group and put us through our paces. He is razor sharp this guy. He pressed us hard on what exactly we were still fighting for - playing devils advocate. Not letting us get away with any flannel. He remembered with incredible precision all the figures and arguments from our previous meeting last month. How on earth does he do this with all that he has on his plate. David made copious notes and said he was meeting the new boss of the PCT later in the week and would get back to us. And he is so personable with it. If the Tory Party don't vote this man Leader they will have gone off their collective rocker. We should make the most of him while he still remembers where Chipping Norton Town Hall is!! ........
Cameron tells of new `exciting' job

NEWLY-elected Conservative leader David Cameron made his first official visit outside London last week, when he came to present a prize at St Mary's C of E Primary School in Chipping Norton. As befits the leader of the opposition, Mr Cameron arrived at the school in The Green, with a much larger entourage of minders than he would have previously been used to.

He also turned up 20 minutes late - blaming the traffic out of London - leaving staff to keep a hall full of lively primary school children entertained for half an hour. But when Mr Cameron eventually arrived, dressed in an open necked blue shirt and navy blue suit, he was charm personified. As a 39-year-old father-of-two, the Tory leader appeared genuinely at ease with the children, apologising for being late and telling them about his new job, which he described as "very new and exciting".

He told the children that his West Oxfordshire constituency was "a really important part of my job." "If your mums and dads need my help I'm still here," he said. He then presented two 50 cheques for the charities Sightsavers and Save the Children Fund to eight-year-old Iona Brown, winner of his Christmas card competition. He said he was "really proud" to have the card, which depicts Father Christmas and his reindeer flying over the town's most famous landmark, Bliss Mill. He was then joined on stage by birthday girls Jazmin Lenney, five on December 11 and Ellie Ravenscroft, eight the same day, to light the school's Advent candles.

He sang along falteringly as the children treated him to a rendition of The Holly and The Ivy. Fortunately, the words were written out on a board on stage, so the MP soon managed to get on song, which is presumably what his party and the country will do over the years leading up to the next General Election. Head teacher Yvonne Barnes was clearly delighted with the success of the visit. "I was really pleased. It was a lovely occasion for Iona," said Ms Barnes

David Cameron, newly re-elected Conservative MP for Witney, has been appointed Shadow Secretary of State for Education in Michael Howards Shadow Cabinet reshuffle. David will lead the shadow education team for Conservatives calling the Government to account in Parliament and setting out Conservative education policy. David Cameron said: I am really excited by this new challenge. I have a strong interest in education both locally and nationally and this will allow me to focus on what is undoubtedly one of the most important areas of policy. My experience of meeting heads, teachers, governors and students in West Oxfordshire will be extremely useful. We have very good schools in West Oxfordshire and I look forward to discussing with them the important issues that need to be dealt with. I have no doubt that achieving high standards and effective discipline will be key priorities.
Nice comment this morning from John Pinaar on Radio 4....."If David Cameron is going to run in the Tory leadership election he is going to have spend the next few months having some of his smooth edges knocked off" ED
ELECTION TIME 2005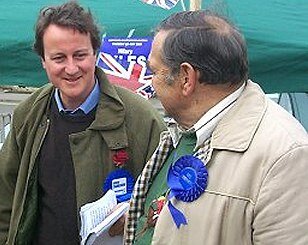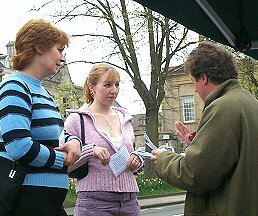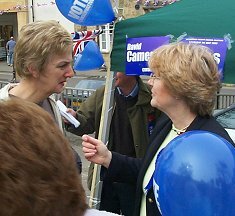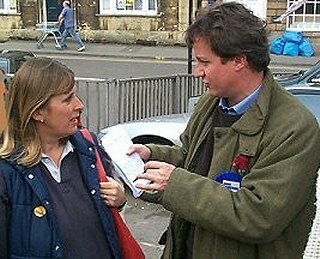 DAVID GOING IN TO BAT FOR US AGAIN ON THE HOSPITAL
An important meeting in the Town Hall today when our MP David Cameron came with Barry Norton (Leader of the WODC) to hear what members of the Hospital Action Group had to report from their discussions with local residents - following the "decisions" of the PTC last week. David has been a terrific supporter of the NO CUTS Campaign since the very beginning. Barry marshalled the District Council's strong support of the call for NO CUTS back in September. Both have been influential in lobbying the PCT and pushing the town's case. Barry had a last-minute meeting with the PCT just before decision day. They have been really important and powerful friends to Chippy during the campaign period and we are grateful. The Action Group told them that the mood in the town was that we must continue the fight to maintain a Minor Injuries Unit. Given agreement on that it was possible that peace could break out and allow all the details of location and "ownership" to be worked through in a co-operative fashion. David told us we must hold absolutely firm on the MIU issue. He would now write to the PCT urging them to come up fast with some concrete proposals on Minor Injuries - pointing out how close they were now to finding an overall agreement. We formulated a number of suggestions together during the meeting - particularly ways of trying to overcome nurse recruitment problems (where the District may be able to help on housing issues), of possible job-sharing schemes with the JR, and creative ways of involving paramedics from the Ambulance service. David would now ask for a meeting with the PCT. He is by far the best intermediary in sight. Lets hope the PCT will listen and that he can broker a deal. Wish him luck. Everyone keep their fingers crossed. If he can't then its back to the barricades.
DAVID CAMERON - ONWARDS & UPWARDS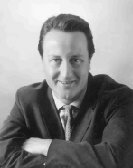 David Cameron was last seen disappearing heavenwards into a deep blue firmament after yet another stellar promotion from Tory Leader Michael Howard. (We know he's a future Prime Minister but this is getting ridiculous!) David is now to become Head of Policy Co-ordination, working directly for Michael Howard. The job involves working with members of the Shadow Cabinet to set out a full range of policies in the run up to the General Election and deliver an attractive Conservative manifesto. Previously, David was the Conservative spokesman on Local Government Finance.
David Cameron said following his appointment: "This is an exciting job at an exciting time. People are pretty fed up with the current Government and want to hear about the alternative. We already have policies that extend choice in health and education and that will put more police on the streets. But we still have a lot more to do. We need to give people a clear feeling about how life would be different and better under a Conservative Government. I will consider three points when coordinating policy. Will it make peoples lives better Is it simple to understand And above all - will it work All the things I have seen and people I have met in West Oxfordshire and throughout the county will give me a good insight into this job and Im looking forward to it."

David Cameron meets Parker Knoll
Prior to visiting Parker Knoll our MP David Cameron will first be meeting with representatives from Oxfordshire County Council and West Oxfordshire District Council to discuss the Parker Knoll Factory Closure. Following this David Cameron will then go to the factory to discuss the impact of the closure at a 5pm meeting with the Managing Director and Site Director of the company. What about holding a Public Meeting straight after that David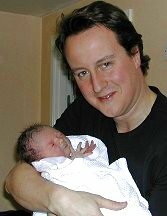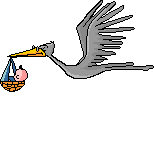 CONGRATULATIONS TO OUR MP DAVID CAMERON
AND HIS WIFE SAMANTHA ON THE BIRTH OF NANCY
Hansard for Jan 8th reports:
Mr. David Cameron (Witney) (Con): What estimate has been made of the cost of enforcing new legislation on horse passports.......What will the Department tell people when they see an army of snoopers paid for with council tax to inspect their stables; when they see a law that has been condemned as defective by a Committee of the House; and when they see a measure that excludes most wild ponies, which do occasionallyand regrettablyend up in the food chain, while including donkeys and other ponies, virtually none of which do Why have the Government wasted so much time in introducing such a ridiculous piece of bureaucracy just so that the French can go on eating horsemeat
Alun Michael: The hon. Gentleman obviously knows very little about the legislation and the reasons for it. It will clearly surprise him to learn that it has strong support in the horse industry. The advantage of the horse passport system..... is that the industry will be able to go on using the methods that it currently uses, which are extremely valid and would not be used unless the regulations were in place.
Mr. Owen Paterson (North Shropshire) (Con): That was an amazing reply. The National Audit Office has confirmed that the British Cattle Movement Service has lost more than 100,000 cattle, at a cost to the British taxpayer of 15 million a year. Can the Minister name three clear lessons from that fiasco to prove to the House that this latest bureaucratic nightmare will not lose a similar number of horses
Alun Michael: It was an amazing reply because it was made in response to an amazing question from an Opposition Back Bencher, but the Front Benchers are even better: they do not seem to understand the difference between horses and cattle.
Thursday 27th November 2003
Campaign for Broadband Bears Fruit
David Cameron,has been campaigning for broadband access for rural areas BT Broadband has recently announced comprehensive trigger levels for all exchanges in West Oxfordshire, ahead of their meeting with David Cameron and members of the constituency. Details of the trigger levels are attached to this e-mail. The meeting will be taking place on the 4th December at 7pm in Witney Councils Woodgreen Offices, and in attendance will be spokespeople for local businesses as well as public who are eager to get broadband set up in rural Oxfordshire.
David Cameron said: "This is good news for the constituency. Some of the trigger levels are still too high, but now we have targets to aim for. More areas in West Oxfordshire can look forward to receiving broadband connections in their homes and businesses."
For further details of the meeting on the 4th December, please contact Patrick Clark on 020 7219 3475 a copy of the invitation to the meeting is also attached.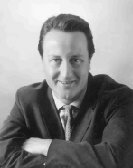 DAVID CAMERON
BECOMES DEPUTY CHAIRMAN
The new Leader of the Conservative Party Michael Howard has chosen David Cameron to become the Deputy Chairman of the Conservative Party, with a major campaigning role in the run up to the next General Election. Davids responsibilities will include working with the campaigning team and the communications department. He will be used as a spokesman for the Conservative party on national and regional media. David says: "I worked in Central Office before the 1992 election victory, and it is a huge challenge being back on the team. I will look forward to ensuring that we put the message across successfully. The next election is now wide open".
Wednesday November 5th, 2003

Witney MP sponsors new call for referendum on EU Constitution

David Cameron MP has signed a Bill in the House of Commons calling for a referendum on the European Constitution before it is ratified by the Government.

John Maples, Member of Parliament for Stratford-Upon-Avon, has proposed the Ten Minute Rule Bill, which will demonstrate to the Labour Government just how much support there is amongst MPs for a referendum. (It is expected that there will be a division, during which MPs can demonstrate their support, or opposition to the Bill).

David is one of the sponsors of the Bill. Speaking from Parliament today, David said: "I am against transferring further power from Westminster to Brussels. Movement along the road to closer union with Europe is taking place with ever increasing steps. While calls for a referendum on the Constitution are loud and clear from the British people, the Government is taking us towards integration and refuses to ask people what they want in a referendum. If they are doing referenda on regional assemblies, why on earth cant we have one about the European constitution"

The bill will be introduced to Parliament on the Wednesday 12th November. The full text can be obtained from David Camerons office the next day (13th November) by writing to the e-mail address below:
OCT 29th HOUSE OF COMMONS
Our MP David Cameron secured a debate on Disabled Children in the Commons and opened it with an incredibly moving and powerful speech. It began like this.....

My interest in the subject

of

very severely disabled children was first aroused by a very brave woman, Tussie Myerson, who lives in a neighbouring village in my constituency. She has a severely disabled 12-year-old daughter, Emmy, who is quadriplegic and has intractable epilepsy, asthma, severe learning difficulties, and recurrent infections that often require hospitalisation. Tussie has fought hard to get the support that she needs to care for her child and to try to maintain some sort of normal family life. While trying to help her, I suddenly found myself perhaps not in the same boat, but at least trying to navigate the same sea. My wife and I have a son, Ivan, who is now 18 months old. He has chronic epilepsy, cerebral palsy, and severe developmental delay. One never knows about the future, but he is unlikely ever to be able to walk or talk. He is a magical child, with a smile that can make me feel like the happiest father in the world, but anyone who has experienced the elation of having a child and then the agony of watching them suffer and finding out about their disability will say that there is also a huge amount of pain. It is very dangerous for a politician to say that one must experience something in order to understand it. By and large, I do not believe that, but there is something about being thrown into a situation that is so totally unexpected and having to face all the difficulties of coping, all the worry about the suffering of one's child, all the hospital visits, the different treatments, the hopes raised and then dashed, and everything else one experiences that makes one think about the issue with great intensity.

..
Tuesday, October 28, 2003
Witney MP raises issue of Police retention in the Thames Valley
David Cameron, Conservative MP for Witney, used Home Office questions in the House of Commons this week to raise the issue of the need to retain Police Officers in the Thames Valley.
David met recently with Peter Neyroud, Chief Constable of the Thames Valley Force who explained that many of his officers were choosing to relocate to other areas where housing costs are lower, or to the Metropolitan force in London, where additional allowances are paid.
Campaigns by MPs in the Thames Valley have resulted in extra allowances for officers in our force, but the problem of losing officers remains. In his question David asked the Minister to consider a system of transfer fees so that at least the Thames Valley could be reimbursed for part of the expensive training they have received. This idea is backed by the Thames Valley force, but the Minister said that it is not currently being considered.
David explained:
"While we are recruiting more officers, we are still losing a large number to other forces where housing costs are lower. The Met force also takes a number of officers because their allowances are higher and their travel costs are heavily subsidised. A transfer fee system could be one way of helping our local force to put more bobbies on the beat. At the moment the Thames Valley is being used as a training college for other forces. I was disappointed by the Ministers reply, but will continue to work with the Chief Constable and others to make sure that this issue is addressed properly."