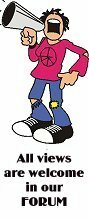 GO TO

TOWN COUNCILLORS
names and addresses

TOWN COUNCIL
WEBSITE
(archive)



LOCAL
CHIPPY NEWS
IS NOW HERE




All phone numbers on this site are code unless shown otherwise.

OTHER CHIPPY WEB SITES

Comments, Ideas,
Criticisms, Articles


Finding us
A "secret" road
Description
Map of Chippy
Stay in Chippy
Stay nearby
Holiday Cottages
Things to see
Chippy's Pubs
Pubs Nearby
Restaurants
Some History

LOCAL
NEWS PAGE



LOCAL WEATHER
STATION


TOWN INFO
Census Info

BUS & RAIL

CLUBS & SOCIETIES


BUSINESS DIRECTORY

OUR MP


LOCATIONS
DRINKING/EATING

Visit the
Theatre Website


CATCH UP WITH
PREVIOUS
ARTICLES
SUMMER IS OFFICIALLY HERE. THE POOL IS OPEN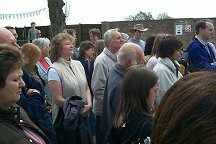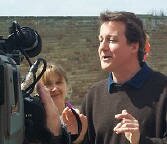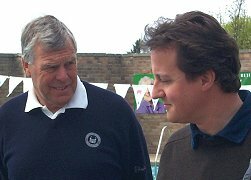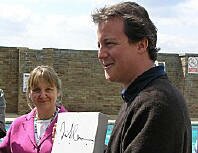 "One of the great things about my life at the moment is the variety. One day I'm in the House of Commons facing Tony Blair. The next day I'm in the Arctic Circle and the day after I'm at Chipping Norton Pool!" Dave was in relaxed good form on Saturday morning. He congratulated KOPO on the super campaign they had run to keep the pool open. They had raised its profile and won the support of townspeople. He was already a regular at the Indoor pool. He promised that in future on summer days like this one he would be changing his allegiance. Claire Jarvis announced that Chipping Norton Lido had just become a registered charity and Dave had agreed to become the Pool's Patron. Claire thanked the Town Council who were the only body providing any support. The rest was going to have to come from takings on the gate and fund raising. Cheers all round. The Pool got pretty full then as everyone piled in. Here's hoping for a really successful summer.
Jezza raises a staggering total of 21,041


Ken Norman writes..... What a night we had on Friday. Thanks to Mr Jeremy Clarkson who was, as ever, on top form extracting a great deal of money from a packed Town Hall. But of course none of that would have been possible without the donations from our generous sponsors.

Highlights of the evening:
Aston Martin Performance Driving Experience made 1,600
Tickets to see (and meet Status Quo) went for 500
4 bottles of House of Commons Scotch signed by David Cameron MP went for 80.each!

The 100 lots made us a staggering total of 21,041 and with ticket money less expenses the evening earned us a total of around 22,500. This is about the same amount of the withdrawn annual subsidy that should cover this years trading deficit. Anyone can still help by contributing 25.00 to our coping stone appeal - if they sign a Gift Aid form as a charity well get another 7.00 from Gordon Brown.
(Thanks to Gary Creese for the photographs)
NEWS FROM THE LIDO

Pictured above are two kids from an inner London school group who stopped off at the Lido in July (like every year) on their way to a residential week in Malvern. They are making good use of the pool floats and games which Chipping Norton Lions Club have kindly donated this year.

Claire Jarvis writes......We're having a good couple of weeks thanks to the hot weather. There's no doubt that The Lido is looking more loved and cared for than in a long time and is being run with care and commitment, but we're still operating on a financial knife-edge. We're keeping close control over costs, but much of our equipment is now over 35 years old. Last Monday, for example, our boiler broke down and initially it looked as though we'd have to close for the remainder of the week while we had it repaired. Thanks to our manager and technical director pulling out all the stops, we were able to source the new part and get it installed within 24 hours. Nonetheless the breakdown has cost us an unforeseen 1,000.

SUMMER HOLIDAYS AT THE LIDO

The Lido at Chipping Norton is gearing up for the summer holidays with a full programme of events and children's lessons.

If you're learning to swim or just want to improve why not enrol in our holiday swimming lessons, they take place in an environment that is always friendly, where children and adults alike can gain confidence and learn to swim in safety. We teach from age 3 years up to and including adults. We run a nationally recognised Badge Scheme. This is the Amateur Swimming Association Award Scheme culminating with the Gold Challenge Award. This year the season will culminate in an Awards Ceremony on September 1 to which all our swimming students are invited. View the lessons timetable and download an application form HERE

Pirate Day on the August Bank Holiday Sunday (27th) is returning by populardemand. With pirate action and activities throughout the afternoon, including scariest pirate competition, walking the plank and the return of those nasty pirates who last year stole our treasure. Later in the evening, there will be a free outdoor screening of Muppet Treasure Island.

Free swimming for the over-60s will continue throughout the summer every Wednesday morning from 10.30am - 12.30pm. This session is sponsored by retirement home builders McCarthy & Stone.

For more details of events and lessons, call The Lido on or visit www.chippylido.co.uk
Channel Swim at the Lido
Claire Jarvis writes.......The idea was to add up the total distance everyone swam and see how long it took us to swim the channel - oh and get some sponsorshjp along the way! I
n the event, we were faster than the ferry, crossing the Channel in 1 hour 45 minutes! It was a perfect summer evening, the Silver Band played magnificently, over 50 people came to swim, clock up some lengths and take in the atmosphere, including the Mayor and her Consort, as well as District Councillor Mike Howes. Many people achieved ' personal bests' - Sue Heap won the 'most lengths' competition with a magnificent 104 lengths, while eight year-old Hattie Creese came very close with an amazing 103 and 13 year-old Ke

lv

in Miles swam 101. Sixteen people clocked up a mile (that's 64 lengths) and five year-old Rowan Woodell swam his very first length. In the end, everyone was having such a good time that no-one wanted to stop when we crossed the finish line, so we turned round and swam halfway back as well.





TASK FORCE MOVES IN AT THE LIDO



From left, volunteers Jayne and Russell Barringer with Lido directors Rupert Blakeley, Peter Barbour, Steve Nelson, Claire Jarvis and Joe Johnson

A major programme of repair and refurbishment got under way this weekend at Chipping Norton Lido when a team of volunteers began preparing the pool for new coping stones to be laid. A recent survey had revealed that water was seeping down behind the existing original stones and was causing damage behind the tiled sides of the pool. A capital appeal launched by the charitys patron, David Cameron MP, earlier this year will fund the new coping stones. Director Claire Jarvis commented, This is the first stage in a series of essential repairs and improvements. As ever, we are doing as much of the work ourselves as we can and calling on professionals where needed. People are responding generously to our appeal but we still need to raise more funds if we are to complete the capital programme before the start of next season. Donors are invited to give at least 25 and to have a coping stone named after them or someone they nominate. A plan of the named stones will be displayed at The Lido next season. Other essential work includes the rebuilding of the pools chlorination plant and the refurbishment of the showers and toilets. West Oxfordshire District Council recently announced that The Lido had been successful in applying for a Sport & Active Recreation Grant and that it would contribute 3,374 towards the 9,640 needed to build the new chlorine room. Anyone wishing to contribute to the appeal should call or visit www.chippylido.co.uk