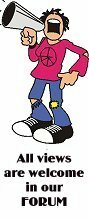 GO TO

TOWN COUNCILLORS
names and addresses

TOWN COUNCIL
WEBSITE
(archive)



LOCAL
CHIPPY NEWS
IS NOW HERE




All phone numbers on this site are code unless shown otherwise.

OTHER CHIPPY WEB SITES

Comments, Ideas,
Criticisms, Articles


Finding us
A "secret" road
Description
Map of Chippy
Stay in Chippy
Stay nearby
Holiday Cottages
Things to see
Chippy's Pubs
Pubs Nearby
Restaurants
Some History

LOCAL
NEWS PAGE



LOCAL WEATHER
STATION


TOWN INFO
Census Info

BUS & RAIL

CLUBS & SOCIETIES


BUSINESS DIRECTORY

OUR MP


LOCATIONS
DRINKING/EATING

Visit the
Theatre Website


CATCH UP WITH
PREVIOUS
ARTICLES

ONE PERSON'S VIEW OF CHIPPY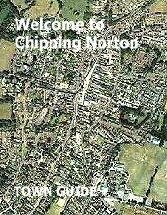 CHIPPING NORTON - or "Chippy" as we call it in these parts - is still a real town - not entirely a tourist place. Its not pretty in the way that Broadway is pretty, or smart like Stow-on-the-Wold. But those of us who live here like it this way. As someone memorably observed, "Chippy" has the last fish and chip shop for 30 miles in the Cheltenham direction. "Chippy" is still the kind of town with "real" shops where the lady in the bank is the wife of the hairdresser who is the brother of your builder. "Chippy" is geographically mixed up. Move twenty miles in any direction and you know exactly where you are - the Midlands, the South West, the Home Counties or the South of England. But "Chippy" itself is not truly in any of one of these regions - marooned on its North Oxfordshire ridge in a kind of windy no-man's land. Certainly the weather comes from all directions. Politically, "Chippy" has always been a bit schizophrenic. Our last MP was elected as a Conservative and switched sides...and didn't stay to face the music. Our present famous MP has squared the circle. Old money but he knows all about hoodies and rap music. Our District Councillors were traditionally Labour or Independent but then a local stalwart Mike Howes got elected - despite his Tory Party label.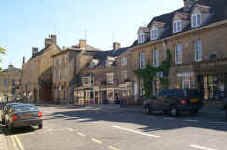 Followed soon after by another Tory - Chunky Townley - one of Chippy's favourite sons who wasn't really a party man at heart. Now its Labour on the run with Chippy's Eve Coles the only remaining District Councillor in the whole of West Oxfordshire. Perhaps "Chippy's" quirkiness is characterised by the fact that one acknowledged -albeit ageing - icon of Britain's "yoof" culture lives in an exquisite Georgian house on the edge of town - and failed to scandalise anyone when he imported a huge Lightning fighter plane to decorate his front drive. "Live and let live" also seems to be the principle that allows Brecht and Christmas Pantos to happily co-exist at the "Chippy" theatre. Until not too long ago "Chippy" - apart from being a small market town - had a real industrial base in wool and tweed production but the impressive Victorian Bliss Tweed Mill is now converted into flats - although its chimney remains the main landmark and signature of the town. Although Parker Knoll have recently thrown in the towel, small scale custom-built furniture manufacture survives in a number of specialist companies. "Chippy" remains a Co-op stronghold.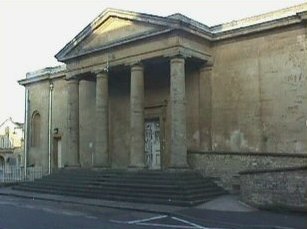 They have deep roots in the town and still own a sizeable chunk of the Market Square. A couple of years ago they made a huge investment by undertaking a really impressive and sympathetic conversion of some of their old Market Square buildings into a modern department store retaining the original facades. "Chippy" still has its own mayor and its own town council - a hangover from a mediaeval charter. "Chippy" is probably like the East End of London used to be - hanging on Canute-like in the face of encroaching gentility. "Chippy" has a lot to offer urban refugees. After all, its not very far from Oxford. Charlbury is only an hour from Paddington. We are slap in the middle of an area of outstanding beauty. "Chippy" is chocabloc with lovely Georgian houses and little mews terraces. The "wool church" has a truly magnificent nave and clerestory.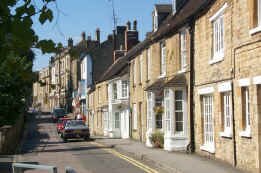 We have a stunning 100-seat theatre, which Tamara Malcolm fought tenaciously to keep going since it was created from the old Salvation Army hall. The Theatre has an amazingly wide-ranging programme of touring productions throughout the year. It also has a delightful art gallery and crafts shop. There is a bookshop in town which is so expertly run that it always seems to have exactly what you're looking for. Gills is a do-it-yourself shop that comes as a revelation to weekending Londoners. There are two real butchers, two bakers who sell "real" bread, a marvellous delicatessen and a Farmers Market. There are still a few excellent antique shops.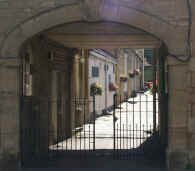 Restaurants come and go... Wheelers, Chequers, Bitter and Twisted, The Crown - all have their fans. On its day the Anarkali is one of the best Indians you will find. But times are changing......Bliss Mill, the 30's cinema, the old telephone exchange, most of the town's garages and the local workhouse have all been converted into expensive flats and houses. The Care Home and Hospital on valuable Town Centre sites are for the chop but will replaced by a new health facility on the edge of town. The site of the Parker Knoll factory has been covered with town houses. Our old open air swimming pool hung on by the skin of its teeth - thanks to a dedicated group of local activists who took over the management and have made a big success of things. A very stylish multi-million pound Leisure Centre is now in business. The listed Lutyens-style old Post Office has become the headquarters of the Vintage Car Society. "Chippy" is the home of the Renault Grand Prix racing team. The Business Park is booming and is full of IT-type companies. "Chippy" is still a gem of a place. Worth catching while it stays real.