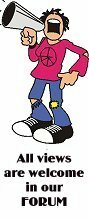 GO TO

TOWN COUNCILLORS
names and addresses

TOWN COUNCIL
WEBSITE
(archive)



LOCAL
CHIPPY NEWS
IS NOW HERE




All phone numbers on this site are code unless shown otherwise.

OTHER CHIPPY WEB SITES

Comments, Ideas,
Criticisms, Articles


Finding us
A "secret" road
Description
Map of Chippy
Stay in Chippy
Stay nearby
Holiday Cottages
Things to see
Chippy's Pubs
Pubs Nearby
Restaurants
Some History

LOCAL
NEWS PAGE



LOCAL WEATHER
STATION


TOWN INFO
Census Info

BUS & RAIL

CLUBS & SOCIETIES


BUSINESS DIRECTORY

OUR MP


LOCATIONS
DRINKING/EATING

Visit the
Theatre Website


CATCH UP WITH
PREVIOUS
ARTICLES

JUST 15 TURN UP FOR THE TOWN MEETING

Why don't more citizens attend the Annual Town Meeting at which the Town Council defend their years activities. There were just fifteen people present on Thursday night. With apathy like that Chippy electors have absolutely nobody to blame but themselves for the shambles which local government is becoming in this town. District Councillor Mike Howes wanted to know why District and County Councillors had not been invited to join in and make reports to the public as well. He was given a flea in his ear straightaway by the Mayor. This was our meeting - for the town by town councillors. (Just as well too. Could we have put up with another lot of excuses from the District and the County about why the loos hadn't been rebuilt yet, why the industrial units hadn't been started, why the Guildhall hadn't been finished, why the County wouldn't provide any youth facilities, why the pavements on Topside were still dangerous, why the Partnership has achieved zilch after eighteen months but was now gathering in money from all and sundry to employ a town manager and launch a flashy website, why the Ambulance Station had been closed and why our Air Quality Action Plan was way overdue) No - this meeting was concerned with more domestic topics - much closer to home. First up Val Newey wanted to know why the flower borders in town were such a disgrace. Because - said the Mayor - nobody knew who was responsible for them. So why - demanded ex-Mayor Cicely Maunder - don't you ask and keep asking every day until you get an answer. That's what happened in her day. The Chairman of the Guild of Commerce said she had been asking Hilary Biles what was going to be done about them and she had not received a satisfactory answer. Why weren't our borders like Banbury's Nobody asked The Chairman of the Guild of Commerce why some of the traders in the town don't sponsor a flower bed like they do in Banbury. Then the whole room united in a complete condemnation of what was going on at Cemetery Lodge. The whole disaster of the new gates and the railings was now the subject of legal proceedings. Everybody urged the Town Council to take the strongest possible line and insist on an enforcement order from the Planners. The state of the War Memorial then came up for discussion. It was in a mess. Children clambered all over it. Lesley Taylor wanted railings. John Hannis found the lack of respect shown towards the memorial to be a disgrace. Simon the Policeman said they often saw kids playing on the memorial from the Police Station windows. And you do nothing about it roared John Grantham. This led to a general agreement from the Grumpy Old Men Brigade (amongst whom your Editor proudly counts himself) that the Police had become too soft. PC Simon had some statistics. Crime was down in the town. But no mention of Co-Op robberies. Val Newey would have none of this knocking the police. When she rang up the Police on Farmers Markets Days to complain about parked cars they were there within five minutes. She thought the Police were marvellous. So what was Ms Newey doing right to get such fabulous service we were all asking ourselves. But the evening's big topic was still waiting to explode. What most people knew but nobody was officially able to talk about was that Mayor-elect Gina Burrows was planning to choose her partner ex-County Councillor, Candidate for District Councillor and current Town Councillor Rob Evans as her "Mayor's Consort" for her term of office. Was it true that the Mayor-elect was going to choose a man as her consort ex-Mayor Cicely Maunder wanted to know. That decision was entirely up to the new Mayor - we were told by the retiring Mayor. The Town Council only elected the Mayor. Not true - insisted Cicely - this had always been a decision for the Town Council. When she became Mayor it had been made very clear to her that her husband would not be acceptable as a consort. Besides which the Junior Chain of Office had Mayoress written all over it. Hundreds of years of tradition said that Chippy had a Mayor and a Mayoress. It had never ever varied. The ebullient Val Newey (is she making a run for Mayoress perhaps) said that the Mayor should choose who she liked. Ex-Mayor Jo Graves said that she had thought of choosing her husband as her Consort and what was wrong with that. (Unfortunately he had been too busy with his job so Jo had to choose Gina instead) John Hannis weighed in heavily on the side of tradition. If the Council were simply going to dump tried and trusted precedents they might just as well forget about all the ceremonial attached to the previous Borough status and become a simple Parish Council. Councillor Alcock thought the Mayoress job ought to be simply a social one and was in real danger of becoming politicised. John Grantham thought the Town Council should discuss it. Others thought the Mayoral Selection Committee should have asked about all this before recommending Gina as Mayor. It could have affected their choice. Rob Evans said it was about the Mayor having a friendly shoulder to lean on for support (and a ready dancing partner at Mayor's Balls). Leader of the local Chapter of the Sisterhood ex-Town Councillor Caroline Wills Wright seemed to be saying that it was once shocking for a woman to be Mayor. We (male chauvinists) would soon get our minds around the idea of a man as Mayoress. Gina herself - her top lip slightly quivering - said she was taken aback by the conservative attitude of some electors (which seemed to be code for - I shall be doing what I like whatever you lot think). Suddenly the mayor making ceremony in a few weeks time starts to look interesting. Could there yet be a protest Finally we were all thanked for getting dressed up last weekend for the Charter Merrymaking..... a sign of true Community Spirit according to the Mayor elect. The 5,985 citizens who never made it to the Town Meeting don't know what they missed! Shame on you all. Put a note in your diary for next year.
Cicely Maunder writes....You were not listening. I never said I was told I could not have my husband as my consort. I WOULD NEVER HAVE CONSIDERED HIM AND HE WOULD NOT HAVE DONE IT !!!!!!!!!!!!!!! It should have been apparent at the meeting that I am not in favour of our age old tradition being broken. We have always had a Mayor and a lady Mayoress.